Non-Destructive Testing (PT, ET, MT, etc.)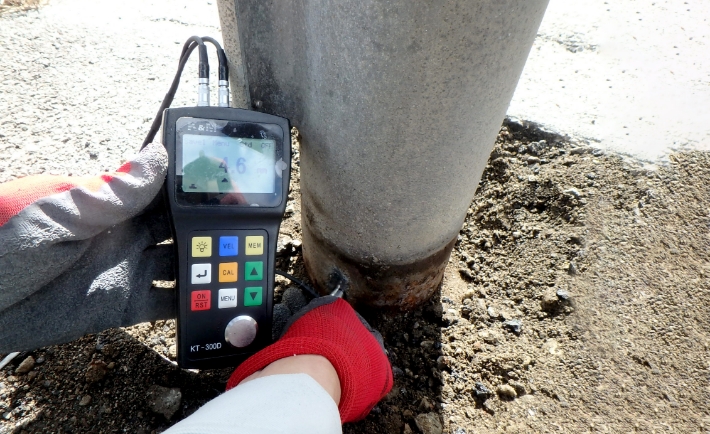 What is ultrasonic testing?
Ultrasonic flaw detection examines internal defects in materials, welds, and structures with ultrasonic testing equipment, probes, and probe cables. It is also used to measure the thickness of steel and the length of steel bars such as rebar.
Ultrasonic Testing Methods
The location of flaws are detected by measuring the time it takes for ultrasonic waves transmitted from the probe to be reflected by the flaw and received again. The same principle can be used to measure the thickness of steel plates and pipes, and the length of steel bars such as rebar.
Please feel free to contact us for more information.
What is penetrant testing?
Penetrant testing examines the surfaces of manufactured products, welds, etc. with a testing solution which permeates surface defects through capilary action.
Penetrant Testing Methods
The solvent-removable dye penetrant test is the most widely used of the penetrant testing methods. This simple and portable test uses an aerosol product for flaw detection. It is not suitable for large volumes of parts or complex shapes, but is suitable for testing parts of larger structures and parts for defects. Please feel free to contact us.
What is magnetic particle testing?
Magnetic particle testing is conducted to check for flaws on or near the surface of products and welds by magnetizing the piece of ferromagnetic material, such as iron, that is being tested.
Magnetic Particle Testing Method
The yoke method is one type of magnetic particle inspection in which an inter-polar magnetic particle detector (a yoke) is placed on the test object to generate a magnetic flux within. If there is a flaw, the magnetic flux leaks into the open space (flux leakage) and a magnet is formed at both ends of the flaw. When you apply water containing iron powder, the location of the flaw can be confirmed visually. A black light is used for observation.
Please feel free to contact us.
What is eddy current testing?
Eddy current testing detects flaws on the surface of materials by passing an electric current through the coil of the testing device and detecting changes in the eddy currents generated by the surface being tested.
Eddy Current Testing Method
This test method uses a top-mounted coil which is placed close to the test object.
When a coil that generates an alternating magnetic field is placed on the surface of a metal material, eddy currents are generated on the surface of the metal material. Because the eddy currents vary depending on the electromagnetic properties (permeability and resistivity) of the material and the condition of the surface, it is used to determine the presence or absence of scratches.
The area covered by the magnetic field is smaller than other testing methods, making it suitable for detecting minute surface defects.
Please feel free to contact us for more information.
Contact
Please feel free to inquire about
any infrastructure inspections or surveys